Dreams Unleashed
Living under Israeli military occupation is rarely inspiring, especially when your staff is denied travel permits, so you have to spend an hour waiting at a military checkpoint just to get to a post office;
and an administrative assistant candidate is demanding a salary hundreds of dollars more than local rates--just because she has worked on an international project; and your financial records are lost when a laptop is confiscated; and your five-year-old demands your ID card before "allowing" you to pass from your kitchen to the salon.
On Monday, I needed inspiration, so I went with my colleague, Saeeda, to Burqa, a village of approximately 6,000 residents about 30 minutes northwest of Nablus, in the Israeli-occupied West Bank. Burqa is one of five villages the Dalia Association has chosen for our "Women Supporting Women" pilot project. Burqa's residents are poor and are often subjected to violence and restrictions due to the village's close proximity to Israeli settlements. Burqa is also difficult to reach because of checkpoints and, therefore, is underserved by local and international organizations.
At the Women's Society office in Burqa, women greeted us with three kisses – right cheek, then left cheek, and then right again. About 15 women sat in a circle on the concrete veranda talking about family and village politics. They were holding an exhibit and sale of their handicrafts and food products, but no buyers were in sight. The women showed us the office, which included a one-room beauty salon and a kitchen for canning, both income generators for the Women's Society.
After the tour, we sat in a high-ceilinged room. Small papers had been taped over the peeling paint on the walls, and a fan whirled high overhead. We sat down to talk with Amira, Nadia, and Zeinab, the three women from Burqa working in our "Women Supporting Women" project. We are eight months into a nine-month project to build women's capacity to mobilize resources and lead social change, but the planned activities haven't started yet. Still, something magical is happening and we wanted their help understanding what it is.

The first couple of months of the project had gone smoothly. We had developed relationships in the village and established our credibility by being sincere – a rare commodity in the opportunistic culture that has developed since the Oslo Accords turned a hopeful population upside down with the lie that statehood was on its way. Then we gathered the women of each village together to choose their leaders. In each of five villages, between four and ten women nominated themselves or were nominated by others to represent the village in our project. Three women from each village were elected. Then we met several times with the 15 women leaders to discuss the women's ideas, capacities, assets, and priorities.
But after that, the women got stuck.
Every time Saeeda came back from the field, she reported two-hours of a 15-voice chorus singing in harmony, "There is no money. There is nothing we can do." They were not used to valuing local resources, or even seeing them.
But we kept going back to push them to think in new ways, asking: "What are your priorities? What do you want to make happen for your villages? What CAN you do?"
The answer was always the same: "There's nothing we can do."
We kept going back.
After four months of "There is nothing we can do," we were out of ideas. Our project committee was out of ideas. Everyone seemed convinced that, in fact, "there is nothing we can do."
We feared that the project would fail.
According to our analysis, part of the problem was the post-Oslo "development" industry that undermines small-scale work and discourages use of local resources. So we divided the women into three small groups and asked them to choose a project that we would fund for up to $2,000 for each dollar's worth of local resources they could mobilize.
Then, in a sudden expression of certainty, the women declared, "We're stronger as a group. And we want to build a park."
A park? With $6,000?
I found myself panicking: "Is there really anything we can do?"

But we kept on going. We kept taking that nearly two-hour trip in taxis driven by suicidal drivers with fellow passengers who either blew smoke in our faces or fell asleep on us. We kept going past major intersections that we knew lead to important Palestinian cities, but are marked only with Hebrew signs identifying Israeli settlements. We passed through checkpoints with twenty-year-old soldiers holding automatic weapons pointed at our heads.
The task was difficult, but we believe in these women. So, by identifying and valuing local resources, we found a planner from Nablus who was not only willing to work for a pittance, but who passionately wanted to be part of such an exciting initiative.
In a brainstorming session, we challenged the women.
"Dream!" we said.
The women were uncomfortable at first. Then, as if a dam had broken, so did the women's resistance.
"I want a swimming pool," one of them called out, giggling and covering her mouth, embarrassed at sharing such a ridiculously impossible idea.
"I want an outdoor theater," said another, looking around to see if others were laughing.
And the list went on:
"A children's playground!"
"A picnic area!"
"A wedding hall!"
"A fountain!"
"An outdoor theater!"
"Retail stores!"
I don't know what allowed these women to finally dream, and overcome the "there is nothing we can do" mentality that had protected them from disappointment in so many irrelevant donor-designed projects that get peddled from village to village on a "take it or leave it" basis. They knew that military occupation, poverty, sexism, factional politics, and the international community were always holding them back. Maybe they dared to dream because they knew their dreams were impossible to realize. You can't build a park for $6,000! It was just a game—a game they played beautifully.
But, when the planner, and his team of volunteer architecture students, returned with the first design of the park, the women were shocked to see their dreams translated onto paper.
"We did that?" they asked in disbelief.
The park was beautiful. It was a place where human beings could be human. Where children could have fun and learn, where families could relax together, where important cultural events could take place. The women saw what they had created, and they hungered for it. They began to sing a new chorus, a chorus of "How can we make this happen?"

They approached their own village councils to ask for land. Fifteen rural women, young and old, housewives and students, from five remote villages were working together to pursue a dream. The village heads were taken aback by this unlikely scenario. They competed with one another to host the park. Each village offered a piece of land, some for rent, some for use without a fee.
Again, the women were shocked by their own power. They began to hope that maybe they could really build a park. A local government department offered an engineer, a woman, to assess each plot of land. What a sight! Sixteen women, plus Saeeda, in a van, visiting villages and being courted by village council presidents. These women were deciding on where to build a regional park!
The best plot of land for the project was in Jinisinya village. The plot was owned by the Palestinian Authority. One of our new board members had a back-door connection (oh so valuable in places where the front door is often closed to common folks), and she arranged for a letter to be sent to Prime Minister Salam Fayad. Within two days, the women had received his support for the use of seven dunams of land (about 2.5 acres)--without charge.
Then came a call from a generous donor in Jordan who had been insistent that Dalia Association locate a village in which they could build a library. The donor liked building libraries, but no one had asked us for one, so I had no suggestions.
"But libraries are good," the donor had said.
"Yes," I had replied. "I know, but no one has asked me for one."
I told him that we had land for a multi-use park and needed a children's playground.
"Library," he insisted.
"The women want a playground in their park," I replied.
"We want a library."
End of call.
A few days later he called back with an offer.
"We'll build a playground and a library in the park."
"Deal."
From this coup, the women realized that people wanted to be part of their success.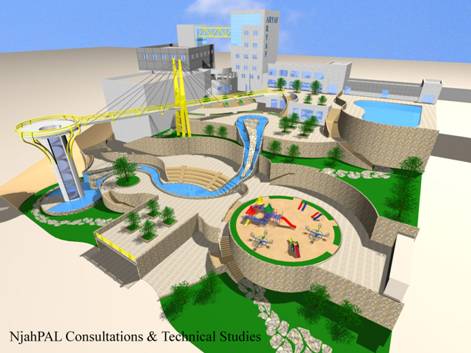 That people wanted to give. That it didn't matter anymore how much money they had or didn't have. What mattered is that they could get resources simply by networking strategically. With this new knowledge, they started offering local people a chance to get involved. They began identifying skilled craftsmen—masons and carpenters and plumbers—who might work for free. They accepted a government office's offer to connect the water and electricity for free, and a municipality's offer to loan them construction equipment that would be in the village for another building project.
The energy was multiplying exponentially.
The legal document regarding use of the land is now being held up in some kind of newly-formed land use committee. The fundraising plans are taking too long to finish. And the funded part of our project ends in one month. But nobody is the slightest bit worried. The dreams that have been unleashed in five villages north of Nablus cannot be denied. Even if Dalia Association quit the project now (we won't), it would continue without us in some form or another. The success of the park is not assured, but the success of the project is crystal-clear. Fifteen women supported one another to figure out how to do "impossible" things for themselves and their communities. That's social change that cannot be reversed.
Through this experience, I have learned to be patient while people--who have been oppressed by generations of occupation, colonization, and dispossession-- remember how to dream. I have learned to plan to achieve the dream, regardless of how unrealistic it seems, because people struggle for dreams, not necessarily for small goals. I have learned to embrace people who want to be part of the success, and to avoid naysayers--regardless of their "expertise."
***
In every group of Palestinian women I meet, there is always one I can't stop looking at. In Burqa it was Zeinab. Zeinab wore a traditional embroidered dress that she probably made herself and a black and brown floral headscarf. Her voice was low in pitch and volume. She had gray-green eyes and they were smiling. Zeinab's mysterious smile made her look as if she were trying to hold herself back from breaking out into song. Watching her made me want to break out into song. Listening to her speak was like listening to a song!
"We were stuck for four months thinking there was nothing we could do because we didn't have any money," she reflected. "We wanted to build a park. We need open space for kids to play, a playground, a place for picnics and weddings, with a pool, and amusement rides. From the first day the idea surfaced, I dreamed of an outdoor theatre that would host international events like they have in Jerash, Jordan." She paused thoughtfully. "Now I can see it happening."
Living under military occupation, it is often difficult to feel inspired. Yet here I am, in the dusty heat, among people whose faces show the pain of generations of frustration, experiencing the excitement of real social change. Surely, when we inspire others, and they inspire us, dreams can be unleashed.
By Nora Lester Murad, Executive Director, Dalia Association, Palestine